Dryer Vent Cleaning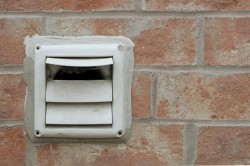 One of the key ways to keep your home's clothes dryer in good working order—and to keep your family safe—is to regularly clean the dryer vent. If you can't remember the last time you scheduled cleaning the dryer vent into your household regimen, it's time to pick up the phone and contact the pros at Sarcon, LLC. We're pleased to offer dryer vent cleaning service, in addition to all of our appliance and heating and cooling repair services. We're experts at professional vent cleaning, thanks to our extensive knowledge of clothes dryer brands, models, and mechanisms. You can count on us for fast, reliable vent cleaning service at a great price. Call or e-mail us now to learn more!
According to the U.S. Fire Administration, more than 15,000 dryer-related fires occur every year in America, leading to around 15 deaths and 400 injuries annually. How do those fires happen? As your clothes tumble in your dryer, lint is produced, and that lint can get trapped in your dryer's duct system. When you need to clean the dryer vent and don't take care of it in a timely fashion, airflow through the ducts can be restricted, leading to overheating and possible combustion.
Regular vent cleaning can help you avoid putting your home at risk of dryer lint–related fires. At Sarcon, LLC, we'll use professional dryer vent cleaning tools and techniques to ensure that your ducts are completely cleaned out and safe. We'll clear out excess lint, as well as any other debris that may be clogging your dryer vents. Make us your go-to dryer vent cleaning service, and look forward to a safer and better-performing clothes dryer.
Affordable Vent Cleaning Services
Are you putting off cleaning a dryer vent because you're worried about the potential cost? When you hire Sarcon, LLC, for this necessary task, you can stop worrying. We offer some of the best prices in and around Harrisburg for dryer vent cleaning services. For our low rates, you'll work with a pro who knows the best methods of cleaning dryer vents and who will give you top-notch results. To get more information, and to schedule dryer vent cleaning services, contact Sarcon today!
cleaning dryer vents
dryer vent cleaners