Dishwasher Repair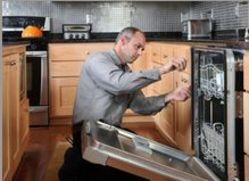 Is your dishwasher not draining? Is it leaking all over your kitchen floor, or just not getting your dishes clean? It's time to call in the licensed and insured dishwasher repair pros at Sarcon, LLC. We have what it takes to provide you with fast, reliable dishwasher repairs, so you can get back to your regular kitchen routine soon. We also offer dishwasher installation, including haul-away of old units. We're your comprehensive source for dishwashers repair and more in Harrisburg. Call or e-mail us now to schedule the professional assistance you require!
One of the things that sets Sarcon apart from other area dishwasher repair companies is that we work on just about every brand and model on the market. Need GE dishwasher repair? Bosch dishwasher repair? KitchenAid dishwasher repair or Maytag dishwasher repair? We've got you covered. From major repairs to minor services such as dishwasher rack repair, Sarcon, LLC, is standing by to meet your needs.
We can repair or replace dishwasher components including:
Door latches/switches
Door gaskets
Water inlet valves
Overflow switches
Timers
Heating elements
Drain valves
Whatever your specific dishwashers repair needs, you can expect us to show up on time, make a swift and accurate diagnosis of your problems, and take immediate and effective steps to solve them. We take pride in offering some of the fastest and most reliable dishwasher repairs in the Harrisburg area. We also strive to keep our prices low. When you call Sarcon, you can expect dishwasher repair service that works for your schedule and your wallet, while still getting the job done.
Licensed Dishwasher Repair Service
Sarcon, LLC, is fully licensed and insured for all of the dishwasher maintenance, repair, and installation services we offer. When you come to us for GE dishwasher repair, Bosch dishwasher repair, or service for other brands, you can expect us to have the knowledge, training, and skill to give you great results. A dishwasher that's not draining, not filling, leaking, or experiencing any other issues doesn't stand a chance against our specialized technicians.
To schedule your appointment for dishwasher rack repair or whatever else you need, call Sarcon today! We'll schedule the earliest available appointment that works for you, and we'll do our utmost to make your dishwasher issues a distant memory. And, because we stand behind our labor and the parts we use for a full 90 days, you can anticipate a household free from dishwasher problems in the future! 
Dishwasher Rack Repair
Dishwasher Repair Service
Dishwasher Repairs