Air Conditioning Repair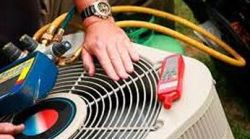 Do you need air conditioning repair service to ensure that your home is cool and comfortable during the warmer months? Turn to Sarcon, LLC, for quality air conditioning service at a great price. Our air condition repair pros are fully licensed and insured. We're also EPA certified to safely handle refrigerants such as the ones in your AC unit. If you want to be certain that your air conditioning repairs are being carried out accurately and effectively, put your trust in our knowledge and experience. We've been helping homeowners in Harrisburg and the surrounding area with air conditioning services since 2010, and now it's your turn. We look forward to meeting your needs!
At Sarcon, LLC, we offer air conditioning repairs for a wide array of brands and models, including both central and wall AC units. Whatever make you own, and whatever issues it's experiencing, make us your air conditioning repair company and look forward to fast and reliable results.
Common problems requiring air condition repair include:
Leaking
Failure to cool air
Failure to circulate cool air
Unusual or loud noises
Unpleasant odors
And more
Whether you're having issues with temperature regulation, leaks, or other aspects of your unit's performance, Sarcon will be able to provide air conditioning service that gets your system back on track. We want you to enjoy a pleasant and safe living environment, and that means making sure that you get the air condition repairs you need, when you need them. We work quickly and professionally, calling on everything we've learned in our years in the air conditioning repair service industry to give you results you can trust.
In addition to quality workmanship, our top considerations are responding promptly and keeping our prices reasonable. In fact, you'll find that Sarcon offers some of the fastest turnarounds and some of the lowest rates for air conditioning services in Harrisburg and the surrounding region. We believe in satisfying our customers, and we know that having a satisfactory experience with an air conditioning repair company goes beyond the repairs themselves. We'll work hard to earn your trust and keep it.
90-Day Warranty on Air Condition Repairs
One of the things that sets Sarcon apart from other local air conditioning service & repair businesses is our warranty package. We stand behind our technicians' labor and any parts we install for a full 90 days. That means if you experience the same problems in the months after our visit, we'll come back out to assess the situation and make everything right.
Want to know more about why Sarcon, LLC, is one of the best air conditioning repair companies in Harrisburg? Contact us today!
air conditioning repair service
air conditioning service
air conditioning repairs